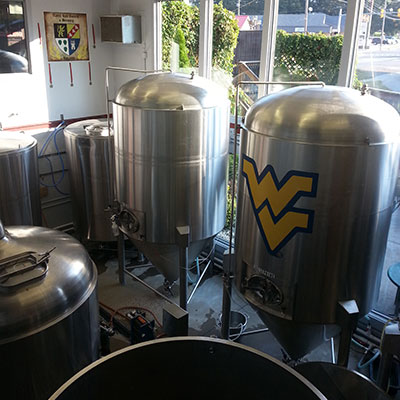 WEST VIRGINIA BrewerY
Craft Brews In West Virginia Since 1997
In 1997, the North End Tavern expanded its restaurant with the addition of its craft brewery. We now regularly brew between 3 and 6 different hand-crafted craft brews each month. Our flagship amber ale, Roedy's Red has won several state-wide competitions.
We brew for our restaurant and also make our beer available to many other establishments in West Virginia. Chris Hopkins has been our head brewer for over five years.
On June 2, 2015, we were listed on Thrillist as the oldest brewery in West Virginia.
CHRIS HOPKINS, HEAD BREWER
Chris Hopkins, a Parkersburg native has been brewing professionally since 2000. His background in beer is extensive, having been a home-brewer since 1995 and receiving a certification from Siebel Institute of Technology in 2000. Chris then completed an apprenticeship with Mendocino Brewing Company in Ukiah, California and went on to manage the quality control department for the company before returning home with a goal to stimulate the craft beer industry in the Mid-Ohio Valley.